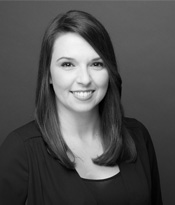 Called to the Bar, 2008
Direct Tel: 416-238-7295
Email: barlow@cdglaw.net
Ms. Barlow graduated from McMaster University with a B.Sc (Hons.), M.Sc. (Behavioural Neuroscience), and holds her LL.B. from Osgoode Hall, York University. She was called to the Bar in 2008.
Prior to joining CDG, she practiced Commercial Litigation with a firm in London, Ontario and has appeared before the Small Claims Court, the Superior Court of Justice, Federal Court, and Federal Court of Appeal. She has also appeared before the Human Rights Tribunal, the Ontario Labour Relations Board, and the Assessment Review Board.
In her free time, she enjoys spending time with her family, travelling, hiking, and yoga.
MEMBERS OF THE FIRM: